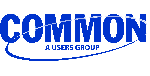 Common is the iSeries market leading showplace for information technology, telecommunications and office automation.


At Common in Indianapolis Integrated Print Solutions will announce the release of the latest iSeries printing solution:iOPS - internet OnePrint Solution for iSeries. iOPS is the only solution available that allows remote users to print any iSeries document to any printer, any time, any place.

Please meet us at COMMON Spring 2003 Conference & Expo in Indianapolis, Indiana, March 9-13, Booth 731.