OnePrint Server Express appliance delivers fast, reliable printing management in application environments ranging from the Mainframe and AS/400 to the enterprise. Host printing via OnePrintSE eliminates the need for expensive, specialized printers connected on a redundant dedicated network. OnePrintSE utilizes enterprises-accessible ASCII printers. OnePrintSE extends AFP/IPDS enterprise printing capabilities to distributed client-server networks from both IBM Mainframe and AS/400
OnePrintSE delivers exceptional performance and print data stream availability with unprecedented ease of use.
The OnePrintSE Advantage: No Host or printer or LAN server component, simple, reliable and inexpensive.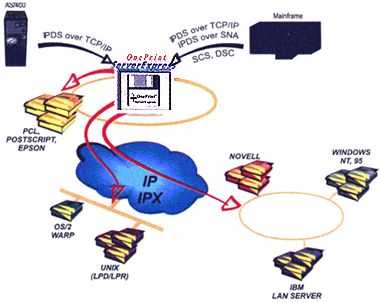 OnePrint receives host print jobs (AFP/IPDS, SCS, DSC) and then converts them into standard ASCII data streams (PCL4, PCL5, PCL5 Level 3, PCL5 Enhanced, Epson, Canon and PostScript). OnePrint then sends the converted data over the LAN/WAN to a print queue or directly accessible printers. OnePrint can be managed remotely from any LAN workstation with Web Browser or 3270 terminal.

Key Benefits
OnePrintSE allows you to distribute host-based print jobs to up to 128 printers. You can now print any host document to any LAN-attached ASCII printers at any time. Whatever the printer, the results are the same - host documents will always be printed exactly the way you expect them.
OnePrintSE helps you get the most of your already existing technology. While other solutions require expensive and repeated investments in controllers, printers or printer interface devices, OnePrint works with your existing LAN/WAN technology.