OnePrint Client Express runs as a Windows background application, bringing AFP/IPDS to your desktop. This software-only solution is the most cost-effective alternative to AFP/IPDS printers. AFP/IPDS jobs can be routed from the Mainframe or AS/400 to your existing desktop printer. OnePrint ClientExpress extends the use of AFP/IPDS documents to viewing, editing, printing, faxing, e-mailing and archiving, using Windows services.
The OnePrintCE Advantage: simple, reliable and inexpensive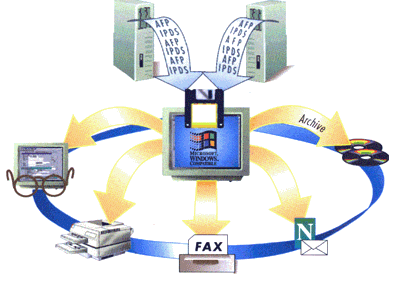 OnePrintCE receives AFP/IPDS documents and converts them into standard ASCII data streams (PCL4, PCL5, PCL5 Level 3, PCL5 Enhanced, Epson, Canon and PostScript). Using the Windows drivers, the data can be printed, viewed, edited, faxed, e-mailed or archived.

Key Benefits
OnePrintCE presents the most cost effective and reliable AFP/IPDS document delivery solution right to your desktop. IPDS jobs are converted into standard LAN printing, faxing, archiving or viewing formats that can be used by a wide range of desktop devices.
Simple installation, configuration, and ease-of-operation makes OnePrintCE the product of choice to print host-based AFP/IPDS jobs. OnePrintCE eliminates the need to maintain and control expensive IPDS printers and SNA infrastructure (especially in remote offices) for the sole purpose of printing AFP/IPDS documents.